A New Year means New Beginnings
A Time of Renewal
Whether you are new to yoga or you want to 
take
your practice to the next level there is no better time to start than in the new year.
Yoga is the Best Gift We Can Give Ourselves.
---
---
Deep Release, Yin Yoga and Essential Oils
January 7, 2018
Zetveld 10, De Wilp
16.00-18.00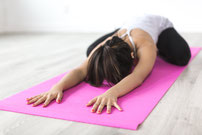 Have you kept busy during the holidays? Would you like to start the year anew and release any old patterns that no longer serve you?
This 2 hour yin yoga practice works on the deeper tissues, such as tendons, ligaments, bones. We learn to completely relax in the poses while releasing deeper tensions and accumulated stress.
We will go briefly over the key elements of yin yoga and dive in the practice. We will also be using essential oils to deepen the effect.
Yin yoga is a meditative style of yoga and a lot of the effect happens on a much deeper level. 
Enjoy a cup of tea and an Ayurvedic dinner snack after the practice in our cozy studio.
Tuition: 20 euros
Minimum amount of attendees: 3
Please, send and email to info@trueyogaandessentials.com to register.
Final day for registration and payment: January 4, 2018.
---
Yin Yoga Nidra
January 13, 2018
Studio Moesstraat 47, Groningen
15.00-17.30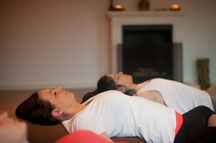 The holiday season always has more stress: a pattern of doing more, eating worse, sleeping less, drinking more. By the time the family gathering rolls around, you are worn out, tense, and fragile. Holiday stress makes it harder to cope with your family than it might at other times of the year. Being realistic, and seeking support can help with stress reactions. Find some of that help by relaxing with Yin Yoga Nidra after the holiday season. Do it for yourself and for your loved ones.
Yin Yoga is a practice of releasing muscle engagement. Focus on accessing the connective tissues (ligaments, tendons) and joints. Promote flexibility and focus. Help restore moisture to the fascia that aging and non-use depletes. 
Yin Yoga is the perfect balance to an active yang life style.
Yin poses are still, deep, and quiet. The atmosphere of class is unhurried, internal, and relaxed, with a focus on self-exploration and discovery. You are encouraged to experiment with the poses, since skeletal variation—the proportion and orientation of the bones—is different for each person. Alignment is everything but not the same for every body. Understanding how anatomical differences affect joint mobility helps you to appreciate your own unique range of motion.
For Yin Yoga, mats, blocks, pillows, bolsters and blankets are available.
Yoga Nidra is the progressively paced act of letting go, while deeply rejuvenating the body. You do not have to do anything, other than recline or sit relaxing, listen to the guidance, and mentally follow the instructions. You might call it "guided meditation on steroids" or "the ultimate power nap." Regardless of what you choose to call it, it brings deep healing and restoration.
Yoga Nidra is the perfect antidote to stress, exhaustion, fear, and being overwhelmed.
Your Investment: 25 euros and some time away from the stressful world.
Tea and light snack is served after the practice.
Please, register by sending an email to info@trueyogaandessentials.com
Minimum number of attendees: 5
---
Living the Magic with Yoga
weekend yoga retreat
Belgian Ardennes
Last weekend of May, 2018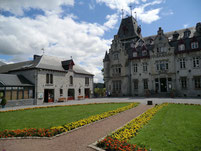 In the heart of the Belgian Ardennes lies a fairytale castle. This castle has a long history which now houses a spiritual community. The new residents have thoroughly restored  the castle and transformed it into a true spiritual oasis where you can explore the colourful culture of the Indian traditions.
Oasis of serenity, a sanctuary for the body, heart and mind. It is a perfect ground to rejuvenate and immerge into the magic.
Come, play, relax, learn and be nurtured. Enjoy the absence of TV-sets and iPods.
Take time for yourself, to connect and rediscover the simple pleasure of being you. Drop into the timeless world of yoga.
Leave behind obsolete patterns, and open new potentialities with simple powerful rituals of breath, movement and concentration. Extend your yoga and meditation practices under careful experienced guidance. Relax into the sounds of the forests of the Ardennes. Enjoy healthy and nutritious vegetarian meals. So… arrive, unpack your travel bags and stop thinking!
Dessi offers a fusion of yoga styles open to all levels and a great way to get deeper into the practice of yoga & meditation.
Everything in the universe is vibration. Adjusting yourself to the power of the yoga frequency, will allow you to connect and feel grounded. Your body, your mind, your spirit, literally tuning in and harmonizing with the world within and around you. Practice yoga as the journey to yourself. Connect to your pure self and on the way, strengthen your body. The 2 daily classes are designed to start your day full of energy and slide into the evening restored and relaxed.
Included in the price:
All meals, teas, snacks
Stay
All practices
Not included:
 Transportation to and from the Retreat
Gifts, souvenirs
Optional upon early request:
Massage

Program:
Friday:
 Driving distance from Groningen is approximately 400km. The castle is around 45km away from Liege.
Arrival and check-in until 16.00
Meet and greet
Early dinner
Evening restorative yoga practice and yoga Nidra

Saturday:
Morning hatha yoga practice
Breakfast
Free time (meditation walks through the grounds and forest; massage upon request; quiet time)
 Lunch
Sadhana
Free time
Dinner
Yin yoga practice
Mantra Chant in the temple (optional)
Sunday:
 Morning yoga practice
Breakfast
Free time, check out
Lunch
Laughter yoga
Good bye with a big smile on.
End of May, 2018 (exact dates are coming up)
Prices:
Early bird registration (end of December, 2017): 240 euros
Bring a friend (end of December, 2017): 225 euros per person
Regular registration (January-end of March, 2018): 280 euros
Bring a friend (January-end of March, 2018): 265 euros per person
Options for single rooms upon request!
The rooms are shared 2, 3, and 4 people.
Private toilet and shower.
Free wifi in the lobby area.
Free parking on premise.
Minimum amount of attendees is 5. Full refund in case of minimum amount of attendees not met.